Mayo Football League

Mayo Football League
News Report
Weekend Preview - 29th/30th August
28/08/20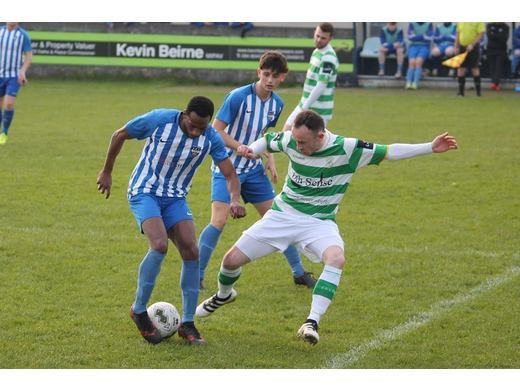 Elverys Sports Super League

Ballyheane v Claremorris (Sat 6pm)
Two sides that are yet to get off the mark meet in Pat Quigley Park when Ballyheane entertain Claremorris on Saturday evening. Even at this early stage of the season this is a real six pointer if either side have ambitions of finishing in the top five when the break in the division takes place after nine games. Looking at the early games and Ballyheane seen to lack a goalscoring threat while they have been giving up a fair few chances at the other end. Rokas Mikuckis is a real dangerman for Claremorris and his presence over a dead ball is something he has added to his game in recent months. They have several attacking players that will trouble most defences but if they don't find a way to quickly improve at the back they may find themselves in a relegation battle after the split in the table.

Swinford v Westport United (Sun 11am)
Swinford caused lots of problems against Ballina Town last weekend and were unlucky not to come away with at least a point as Caleb Daly hit a late winner for the Town. On Sunday morning they face the inform side in Mayo when Westport United visit James McEvaddy Park. Johnny McNulty has been redeployed as a striker for the opening games as Swinford look to come up with answers to their injury problems in that department. He has scored in their opening two league games but his absence at the back could be something Westport exploit. Westport are on a real high after reaching the Connacht Cup Final but their form in the Mayo competitions has shown they have their eyes on more than one piece of silverware. They had another big win on Thursday night as they put four past Ballyhaunis Town where Peter Corcoran (2), Cian McAllister and Caoimhin O'Toole were on the scoresheet.
Ballyglass v Glenhest Rovers (Sun 11am)
Ballyglass picked up a big win last weekend when Mossy Lally hit a late winner to seal a 3-2 win over Claremorris and on Sunday they will feel they can make it two wins in a row when Glenhest Rovers visit Michael Keaveney Park. Keelan McDonnell scored a double in that win over Claremorris and his experience is a big help for this new look side. With Ballina Town and Westport United to come in their next two games they will know that that they will need to get wins over the teams around them if they are to challenge for the top five. Glenhest have only three days to recover from Thursday night's defeat to Castlebar Celtic and with only a point on the board they could do with getting their first win of the season sooner rather than later. Last season they were very strong at the back as they conceded very few goals but so far this year and they are struggling to keep teams out as has been evident in the past week against Colemanstown United and Celtic.

Castlebar Celtic v Ballina Town (Sun 2.30pm)
Even at this early stage of the season the meeting of Castlebar Celtic and Ballina Town is one that both sides know could have a big bearing on the title race. Both sides are on six points after two games with Celtic playing their second game on Thursday night as they recorded a 3-1 win over Glenhest Rovers. Ballina Town already have a win at Celtic Park earlier in the season as they progressed in the first round of the Calor Gas Super Cup but Jamie Cawley's winner that day came against the run of play. Ballna lsot first choice keeper Kieran O'Malley to injury in their 2-1 win over Swinford last weekend and with Mark Duffy not available either it looks like Emmet Peyton will have to take over between the posts. Celtic have a very much new look side this year as Liam Whyte, Paul Walsh and Abdul Wahab have already established themselves in Michael McNicholas side.
Ballyhaunis Town v Manulla (Sun 2.30pm)
Ballyhaunis Town welcome Manulla to Station Rise on Sunday afternoon in their first home game of the 2020 season. They were given a tough start to the league as they suffered defeats to Ballina Town and Castlebar Celtic and given Manulla's start to the season they face another side in form this weekend. Manulla have won both their opening two league games with and are yet to concede a goal as youngster Brian O'Flaherty having a brilliant start to the season between the posts. O'Flahertysved a penalty in last weekend's win over Ballyheane and he was also the hero on Thursday night as he saved three penalties in Manulla B's penalty shootout win over Conn Rangers in the Calor Gas Premier Cup.
CastleCourt Hotel Premier Division
Kiltimagh/Knock United v Snugboro United (Sat 6pm)
Kiltimagh/Knock United looked set to make it two wins from two as they held a 3-1 half time lead over Iorras Aontaithe last weekend but a second half collapse meant they left Carne Nash without any points. They will look to return to winning ways on Saturday evening when Snugboro United are the visitors to CMS Park. Scoring goals as not been an issue for Giles McDonagh's side with Darragh Hanlon, Dylan Webb and Conor Prendergast looking very dangerous in attack. Snugboro have drawn their opening two games but they will be delighted to have scored six goals in those two matches after having a terrible time in front of goal last season. Jamie McArdle has been a good addition to Aaron Curry's side while Mark Mongan and Jason Ormsby are another two players to keep an eye on this season.
Ballina Town B v Iorras Aontaithe (Sat 6pm)
Ballina Town B's long unbeaten league run game to an end as Fahy Rovers had a surprise win over them last weekend. On Saturday they face a side in good form as Iorras Aontaithe visit Belleek in one of the ties of the weekend in this division. Iorras have some of the best attacking players in the division in their squad and they have hit the ground running scoring nine goals in their opening two games. Dylan Walker, Ryan Ruddy, Kyle and Luke O'Reilly gave them real pace in attack and with Brendan Nallen's experience they look like they have what it takes to challenge at the top of the table come the end of the season. Ballina will look to get back to winning ways but they will need to be much better defensively if they are to get anything from this game. Conor Quinn's move to the first team has been a huge loss to them but they will be happy to see that the aim of their team of getting players ready for the first team has started to pay dividends.

Westport United B v Fahy Rovers (Sat 6pm)
There is a big west Mayo derby to look forward to on Saturday evening when Fahy Rovers make the short journey to United Park to take on Westport United B. Both sides will go into the game full of confidence after big wins last weekend. Mark McNally was once again to the fore for Westport in their win over Straide & Foxford United as he scored both goals in that important win. Michael Gibbons and Niall Quinn hold things together at the back for the Covies as they are a side that have built up a good team spirit over the last two seasons. Fahy players Simon Duffy and John Kelly were highlighted as their key players before the season started and it was no surprise that these to were to the fore in their win over Ballina Town B last Sunday. Duffy scored twice while Kelly also grabbed a goal as he put in a man of the match performance in that win. They have a lot of pace up front and if they are given time and space they will be difficult to stop if they get time on the ball.
Manulla B v Conn Rangers (Sun 11am)
Manulla B and Conn Rangers meet again on Sunday morning after Manulla progressed to the Calor Gas Premier Cup Quarter finals with a penalty shoot-out win over the same opponents on Thursday evening. Many would have expected Conn Rangers to win that match especially with home advantage, but Mossy Lally's side have always been a good cup side and showed they are a match for sides in this division. Manulla will be without Cian Mannion and Lee Lyons on Sunday through suspension and there loss could tip the result in the favour of the North Mayo side. Conn Rangers can now put all their focus into their challenge for promotion and after two wins from two they are already in a good position to make sure they are challenging at the right end of the table for the first time in a number of seasons.
Killala v Straide & Foxford United (Sun 2.30pm)
The only two sides yet to pick up a point in this division meet in an early season six pointer as Killala host Straide & Foxford United on Sunday afternoon. Both sides have been competitive in their opening two games but have been unable to cause enough problems to any of their opponents so far. Killala put up a good fight against Conn Rangers last weekend but were on the defensive for most of the game and conceded a late winner as Brian Hughes found the net in the final ten minutes. It's at the other end of the pitch they showed little threat and Rory Gallagher is yet to show any of the form that we know he is capable off, while the loss of Kyle McLoughlin to injury has also been a huge loss to Vincent Kearney's side. Straide & Foxford are surprisingly without a point after losing to Ballina Town B and Westport B and they will know that they have to win this weekend if they are to give themselves a chance of making the top five at the split in the season. They lost a lot of experience from the side since last season and their younger members of the squad are yet to find their feet for Aiden Flatley's side. Michael Guilfoyle's red card last weekend means he misses this game and that is sure make their task even tougher in this North Mayo derby.

Killeen Sports Ground League One
Moy Villa v Achill Rovers (Sat 6pm)
Unbeaten Achill Rovers travel to Attymass on Saturday evening as they take on League One favourites Moy Villa who had the bye last weekend. Achill had a good 2-1 win over Crossmolina as Cory Kilbane continued his good start to the season with both goals as Patrick Gallagher's side got their first win of the season. Moy Villa have been in free-scoring form in the cup and league so far and with John Durkan, Luke Ruane, Ciaran Gaughan and John Judge hitting the ground running they will be hard to stop as they go in search of a second league title since their return to Mayo League Football last season.

Crossmolina v Kilmore (Sat 6pm)
Crossmolina are still searching for their first points of the season and will see the visit of Kilmore as a good chance to get off the mark on Saturday evening. They will feel they should have got at least a point in each of their opening two games as they lost by the odd goal and they were particularly impressive in the opening match where they lost 4-3 to Moy Villa. Shane Hennigan has already proven to be a key player for them in recent seasons and he's continued on this form with goals in both of those defeats. Kilmore welcomed Mark Gilbert back to their squad and he made an instant impact as he scored both goals in their win over Claremorris B. Sean Brogan's move into midfield has given the side some steel in the middle of the park while Dylan McAndrew and Padraig McGinty are developing a good partnership at the heart of the defence.
Claremorris B v Partry Athletic (Sun 2.30pm)
Partry Athletic reached the semi finals of the Calor Gas Premier Cup with an impressive win over Fahy Rovers but they were disappointing in their opening league game as they fell to a 3-1 defeat to Newport/Mulranny Wanderers. On Sunday they travel to Concannon Park to take on Claremorris B who like Partry are a side that like to play football from the back. Claremorris have some real pace in their side and they will hope to have Newton Silva back in the team after he limped out of last weekend's defeat to Kilmore after less than ten minutes. Nathan Ring look to possess a lot of quality and in their opening games they have looked to use his pace and skill to get in behind the oppositions defence. Alan Fenwick is one of their key players in midfield and Partry will have to limit his passing ability of they are to get anything out of the match. Ciaran Hennelly is still the main man in Neil Donnelly's side but he will have been encouraged to see Conal Mac Gabhan and Jonathon Lawerence finding the net in that win over Fahy.
CMR Fire & Security League Two
Castlebar Celtic B v Hollister (Sat 6pm)
Hollister will travel to Celtic Park on Saturday evening as they take on Castlebar Celtic B in confident mood after a last gasp win over Ballyvary Blue Bombers last weekend. With Danny Langdon showing the form he displayed in their title winning season they have a striker that any team in this division would be happy to have. They have also added Mick Duffy as a coach and his experience could be just what Vinny Coen's side need to have another successful season. Castlebar Celtic B were one of the preseason favourites for promotion after Stephen Moran's side put in some impressive performances in the Calor Gas Premier Cup. Terry Maughan, Stephen Jennings and Declan Lavelle already look like they will be key players for Moran's side as their experience of playing at a higher level for a number of years is sure to be of benefit to the younger members of the squad

Kiltimagh/Knock United B v Westport United C (Sun 11am)
Westport United C returned to the league after a long absence last weekend as they secured an opening day win over Conn Rangers B. On Sunday morning they face their first away trip of the season as they travel to CMS Park to take on Kiltimagh/Knock United B. Westport have registered only two players over the age of 18 for this team and the youngsters may need Austin O'Malley and Danny Scahill to help to give them an added bit of experience they may need as the season progresses. Kiltimagh/Knock have taken full points from their first two games as former A team players Shane Prendergast and Gavin Groarke have been to the fore while Thomas Gillespie has continued on the form that he showed last season where he was their best player in a disappointing season.
Ballyvary Blue Bombers v Crossmolina B (Sun 2.30pm)
Ballyvary Blue Bombers will consider themselves unfortunate to only be on one point after two games as late goals were their undoing against Castlebar Celtic B and Hollister. On Sunday they will be expected to get their first three points of the season when Crossmolina B visit Keelogues. Alan Campbell's side already look a lot more competitive this year and a win on Sunday will move them back up nearer the teams at the top of the table. Crossmolina B have been finding the going touch so far since they joined the league but will look on some positives as they have given game time to players that they would someday hope to see playing for their first team.


Follow the site to get the latest news and results straight to your email