Mayo Football League

Mayo Football League
News Report
Weekend Preview - 15th/16th August
14/08/20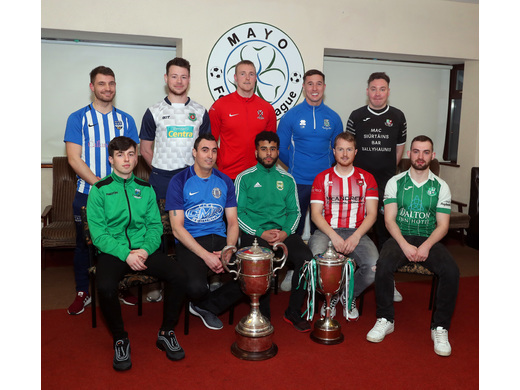 Elverys Sports Super League
Ballyheane v Westport United (Sat 6pm)
Westport United have been in scintillating form the past few weeks as they made it through to the Connacht Cup Semi Final but on Saturday evening they will hope to get their league campaign off to the perfect start when they visit Pat Quigley Park to take on Ballyheane. They have been rotating their squad in recent weeks and the strength in dept has been evident as players like Jack Murphy, Peter Corcoran and James McGrath are now important members of Mickey Feeney's side. Ballyheane made great strides under Ashley Stevenson last season. They have been playing a lovely brand of football as he has introduced a number of players from their very successful U18 team. Nathan Reilly Doyle, Moo Paw and Jack Tuffy are three players to keep an eye on, but an opening day win would still be a shock on Saturday evening.

Manulla v Claremorris (Sat 6pm)
The first Super League derby takes place in Carramore as Claremorris make the short journey to take on Manulla. The home side lost their opening match of the season when Glenhest Rovers knocked them out of the Calor Gas Super Cup and their lack of firepower up front could well be their undoing this season. The loss of Jesse Devers to Sligo Rovers leaves a huge void and they will be looking to the likes of Gerry Canavan and Chris Maughan to take lead roles this season. Claremorris on the other hand have had no problems in front of goal with Rokas Mikuckis already in top form scoring four goals in two games while others like Cathal Walsh and James Ruane have also looked like they could add plenty to Mark Peters side. Andrew Peters is also back in the squad and his side will be confident they can make the top five when the league is cut in two after the first round of games.

Ballyglass v Castlebar Celtic (Sun 11am)
Super League Champions Castlebar Celtic will look to put last weekend's disappointing defeat in the Connacht Cup behind them when they get their league campaign underway in Michael Keaveney Park on Sunday morning. Their squad has had a makeover in the off season as Shaun Pugh, Abdul Wahab and Lerlah Hay have already become regular members of the first eleven but like last season the form of star striker Jordan Loftus will make a huge difference in most games. Ballyglass are in a transitional period and having lost a number of key players they will know they could be in for a tough season unless the younger members of the squad step up to the plate. Ryan Connolly has joined Finn Harps and the departure of Jp O'Gorman will also mean the east Mayo side have lost one of the top scorers in Mayo over the past ten years.

Swinford v Glenhest Rovers (Sun 2.30pm)
The two sides that came up from the Premier Division last season meet in the opening round as Swinford host Glenhest Rovers at James McEvaddy Park. Swinford have finally made it to the top division after been so close on numerous occasions and they are determined to make sure that their stay is not a short one. They were dealt a major blow in preseason when James Devanney suffered a bad injury in a friendly against Moy Villa. They will look to Joe Slevin for goals while Ritchie Dalton and Chris Reddington are two of their key players in the middle of the park. Glenhest reached the semi final of the Connacht Shield last weekend and having Cathal Chambers back in the squad has already proved successful as the striker has scored two winning goals in their opening three games. They will know what it takes to stay in the division and the form of Chris Rowland will as usual be crucial to where they finish. The star midfielder is currently injured and they will hope to see him back in the first eleven sooner rather than later.

Ballyhaunis Town v Ballina Town (Sun 2.30pm)
Ballyhaunis Town stayed up after a relegation play-off last October and they have a difficult start to the 2020 season as Ballina Town visit Station Road. The home side have added a number of new players to the squad so it will be easier to assess them after a few weeks but they do have some familiar names to look out for as Pat McGee, Gary Higgins and Aiden McTigue are all still part of the squad. Ballina Town are under new management as Philly Devers, Mark Beattie and Jono Heffernan take over from Mick Duffy and they have held on to the majority of the squad while adding a few players from last year's very successful B team. Brendan Lavelle scored over twenty goals for the North Mayo side last season and with Dylan Edwards no longer involved they will be looking to the ace frontman to lead the line again this time around. They have been very strong at the back in recent years and the addition of Connor Quinn will also be a big positive to the current Calor Gas Super Cup Champions.

CastleCourt Hotel Premier Division
Ballina Town B v Straide & Foxford United (Sat 6pm)
Ballina Town B finished the 2019 season unbeaten in the Premier Division but they have a tough opening game for the new season when near neighbours Straide & Foxford United travel to Belleek. Reports suggest Ballina have been in very good form in preseason with Jamie Moyles, Shane Devers and Jordan Delaney showing they haven't forgotten where the goals are. Straide & Foxford three year stay in the Super League came to an end last year but they will be confident that they can get back up at the first attempt. New manager Aiden Flatley will know this division inside out after spending the last few years managing Kiltimagh/Knock United.
Kiltimagh/Knock United v Fahy Rovers (Sat 6pm)
Kiltimagh/Knock United confidence will have taken a huge hit this week as they were knocked out of the Connacht Shield and Calor Gas Premier Cup with heavy defeats to Ballaghaderreen and Moy Villa. They came within a few points of promotion last season and they will be hopeful that the appointment of Giles McDonagh as manager will give them the lift they need to make it back to the top division. Fahy Rovers are an experienced Premier Division side but have not challenged for promotion in recent years. Most seasons they have been fighting at the other end of the table but in the last two seasons they have finished comfortably in midtable. Simon Duffy and John Kelly were the two players that caught the eye last season but they will need a few more players to improve their level of performance if they are to be in the race for promotion at the end of November.

Iorras Aontaithe v Snugboro United (Sun 2.30pm)
On their return to the Premier Division Snugboro United make the trip to Carne Nash to take on Iorras Aontaithe in their opening league encounter. Aaron Curry's side are a tough side to beat but it's their lack of goals that cost them in the Super League last season. Jamie McArdle has made the switch from Ballyvary and the youngster will look to replicate the promise he showed in the Mayo U18 setup a few years ago. Iorras relied on a very young squad last season but with Niall Geraghty, Michael Meenaghan and John Gaughan committed for the year they will feel that the extra experience can see them challenge for promotion come the end of November. Brendan Nallen is another key player for the North Mayo side and with Luke O'Reilly, Ryan Ruddy and Dylan Walker as options up top they are sure to cause problems for most sides in this division.

Killala v Manulla B (Sun 2.30pm)
Killala return to the Premier Division this season after a two year absence beginning with a home game against Manulla B in The Courthouse on Sunday afternoon. They were unlucky to lose to Ballina Town B last weekend in the Cup and will be hopeful that they can settle in at this level quickly especially with the new format this season. Manulla B are always competitive with a good mic of youth and experience throughout the squad. On the sideline in Mossy Lally they have one of the longest serving managers in Mayo football and his experience and knowledge of the game is sure to be a big help in what is always the most competitive division in the county.
Westport United B v Conn Rangers (Sun 2.30pm)
Conn Rangers have been touted as one of the favourites to go up this season and they begin their league campaign with a tough game against last season's League One champions Westport United in United Park on Sunday afternoon. Westport B have been very impressive so far as they have progressed to the semi finals of the Calor Gas Premier Cup where Pj Calvey, Mark McNally, Niall Quinn and Dylan Duane have been to the fore for the Covies. They are no strangers to the Premier Division and will be confident that they can hold their own at this level. Conn Rangers are seen by many as the side that can challenge for promotion this season after spending the last two years introducing a number of their youth prospects into the side. Liam Durkin, Eoin Prendergast and Conor Flynn are three that have become regulars in the side and with players like Owen McNamara and Jason Farrell back in their squad it is easy to see why they are expected to challenge at the other end of the table this time around.

Killeen Sports Ground League One
Crossmolina v Moy Villa (Sat 6pm)
Moy Villa will start their league season as heavy favourites for the title especially after Thursday night's 6-2 win over Premier Division side Kiltimagh/Knock United in the Calor Gas Premier Cup. After capturing the League Two title last season they have kept the majority of their squad intact and with the return of the former Super League top scorer John Durkan from injury they look like they will be even more formidable this season. Crossmolina have had a tough preseason including a 4-0 defeat to Castlebar Celtic B in the cup and look like they might struggle to emulate their performances from last season when they came to within one win of promotion.

Newport/Mulranny Wanderers v Kilmore (Sat 6pm)
Two sides that both came up from League Two last season meet in their opening league game at Solar 21 Park. Newport/Mulranny were unbeaten in their meetings last season as Charlie O'Donnell's side also went on to win the McDonnell cup in a very successful season for the newly amalgamated club. They were very strong defensively as they conceded only ten goals in an unbeaten league season and their keeper Niall Muldoon went on to win the Mayo Goalkeeper of the Year Award. Shane McManamon was a rock at the back while Adrian McManamon was their main threat at the other end of the field. Kilmore find themselves playing at a higher level after a restructuring of League One and League Two but they will feel they can compete at this level if they keep their large squad of players together for the season. They competition for places will be high but manager Ollie Lavelle will hope that this will drive his side on to give better performances than we seen last season. If they can solve their goalscoring problems, they have the players in other areas of the pitch that are going to give most sides plenty to think about during the season.

Claremorris B v Achill Rovers (Sun 2.30pm)
Achill Rovers have returned to League One for the first time since 2015 and they will open their campaign with a trip to Concannon Park to take on Claremorris B. The islanders have Patrick Gallagher back in charge with Kris Jablonski alongside him they will bring plenty of experience to a very young squad. Like most rural clubs they don't have huge numbers to choose from but if they can get commitment from the players they have at their disposal they are more than capable of returning to the Premier Division at the first attempt. Claremorris B are heading into their second season in this division and after finishing just above the relegation zone last year they will be looking to improve on that this time around.
CMR Fire & Security League Two
Ballyvary Blue Bombers v Castlebar Celtic B (Sat 6pm)
Castlebar Celtic B came very close to making the semi-finals of the Calor Gas Premier Cup last weekend as two second half goals seen Westport United B progress at their expense. Stephen Moran is the new man in charge at Celtic B and he'll be more than happy at his sides preparation for the start of the league. Ballyvary have had a few tough seasons in League two but they will be hopeful that they can prove to be much more competitive this season. The loss of Jamie McArdle won't make it any easier for Alan Campbell's side but they do have a lot of quality in the squad if he can get the best out of players like Cillian O'Brien, Dermot Hynes and Gary Golden

Conn Rangers B v Crossmolina B (Sun 11am)
Conn Rangers B returned to League Two this season and in their opening game they will host Crossmolina B who have entered the league for the first time. Conn Rangers B took Premier Division side Killala to a penalty shootout in the Calor Gas Cup and with a good mix of youth and experience in the side they will feel they have a chance at challenging at the top of the table. Crossmolina B had a very tough introduction to competitive football when they suffered a heavy defeat to Moy Villa in the cup. They have a few familiar names in their squad but it will be interesting to see if the likes of Shane McKinley, Patrick Lindsay and Nicholas Gallagher can help younger members of the squad to adapt to playing at a higher level.

Kiltimagh/Knock United B v Hollister (Sun 2.30pm)
After a year's absence Hollister are another side that are back in Mayo League football and Vinny Coen's army will be looking to repeat their success in 2018 when they won their first ever League Title. They have a few well know faces involved as Malachy McCarron, James Muldoon and Daniel Langdon are players that have been involved with a few clubs in the area throughout the years. They have also added the very successful former Ballina Town manager Mick Duffy as a coach and his involvement is sure to be a massive plus for the North Mayo side. Kiltimagh/Knock United B found wins hard to come by in their first season in League Two but James Costello's side have started the season with promise with two good performance against higher opposition in the Calor Gas Cup and Connacht Shield. Thomas Gillespie was one of their better players last year and the young forward is one to watch as are players like Shane Prendergast and Gavin Groarke.
Follow the site to get the latest news and results straight to your email