Mayo Football League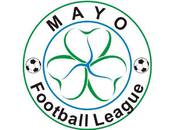 Mayo Football League
News Report
Weekend Preview 9th July
07/07/17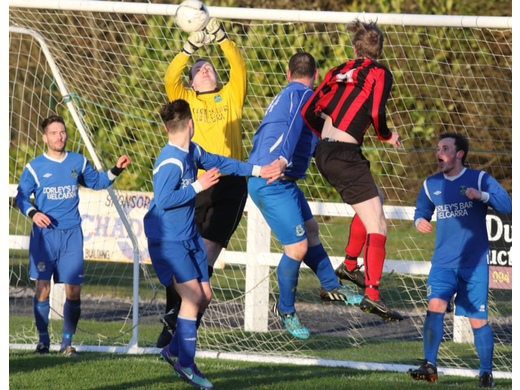 Elverys Sports Super League
Westport United v Manulla (Sun 3pm)
If Westport United are to retain the Super League title they will know that they will probably need to avoid defeat against league leaders Manulla at United Park when the sides meet at 3pm on Sunday. Manulla have already beaten Westport 1-0 twice this season in the League and Divisional Cup so another close game is expected this time around. A win for Westport will see them move into the lead for the first time this season but Manulla have shown they are a match for most sides this year and are currently on a six game winning streak in the league. Westport will have to plan for this game without star striker David Hoban who will be in action for Ireland in the Regions Cup Final against Croatia on Sunday evening.
Ballina Town v Straide & Foxford United (Sun 12pm)
In one of the two early games on Sunday morning Ballina Town host near neighbours Straide & Foxford United in a local derby. At the start of the season many pundits would have expected these two sides to be in different positions than they are currently in as Ballina remain in relegation trouble while Straide & Foxford are enjoying a good season at the other end of the table. Straide & Foxford have suffered three league defeats in a row so Ballina will hope to take advantage of this and finally move clear of the three teams below them.
Glenhest Rovers v Ballyglass (Sun 12pm)
Glenhest Rovers had a crucial win last weekend against Achill Rovers as they moved out of the relegation zone and they will definitely target a home tie with Ballyglass as an opportunity to move further clear at the bottom. Ballyglass have been unable to mount a title challenge like they did last year but they should be happy enough with their league position as they have consolidated their Super League status and lie in a comfortable mid-table position
Achill Rovers v Claremorris (Sun 3pm)
It's looking like Achill Rovers will be playing Premier League football again next season as they continue to find life difficult in the Super League. They now have two home games in a row as Claremorris and Straide & Foxford United make the journey to Fr O'Brien Park. Claremorris will make the journey this weekend Sunday and Achill will have to curtail their two strikers Derek Gylnn and Dean Roddy who are both amongst the top goalscorers in the divisionif they are to have any chance of getting a result. When these sides met earlier in the season Rovers showed real determination as they came back from 4-1 down to draw 4-4. Achill will need to show more of this if they are to have any chance of retaining their Super League status.
Ballyheane v Castlebar Celtic (Sun 3pm)
Castlebar Celtic will be hoping for a draw in the big game at the top of the table so they can continue their pursuit of a title challenge. Ballyheane are their opposition on Sunday and even though it's a local derby Celtic will be odds on favourites to continue their recent good run of form. They have plenty of players in top form and have goals coming from all over the field as was shown last weekend when Jason Hunt, Levi Barrett and Colm Nevin were on target in their 3-1 win over Ballina Town. Ballyheane on the other hand have really improved their level of performance but they still remain in the relegation zone and most observers wouldn't be to hopeful of them picking up any points on Sunday
CastleCourt Hotel Premier League
Ballyhaunis Town v Westport Utd B (Sun 12pm)
Westport United B face the difficult task of getting a win at Station Rise when they take on Ballyhaunis Town on Sunday morning. Ballyhaunis have won their last five home games in league and cup competitions but they still remain in midtable as they have picked up only two points away from home. Keith Robinson is still banging in the goals for them and Westport will need to be wary of him if they are to pick up their first three points in nine games.
Iorras Aontaithe v Crossmolina (Sun 12pm)
Iorras are showing title winning form at present as they continue to remain unbeaten in the Premier League. Brendan Nallen hit another three goals last time out in the 6-0 win over Killala but having the likes of Michael Meenaghan and David Reilly back in their defence has also helped them into a commanding position at the top of the table. Crossmolina are finding life on the road tough as they have picked up the majority of their points at home but Derek Grehem's squad will be playing for places in the Touhy Cup Final against Kiltimagh/Knock United on Sunday week so expect them to give the league leaders a stern test this weekend.
Fahy Rovers v Conn Rangers (Sun 3pm)
Fahy Rovers are looking for their first win in six league games when they take on promotion chasers Conn Rangers at Solar 21 Park at 3pm on Sunday. Fahy are competitive in every game but in this run of form it's hard to see where the next win will come from. Conn Rangers have put their poor early season form behind them and they are now right up there in contention for promotion back to the Super League even though they were held to a 2-2 draw last weekend against Ballyhaunis at Mount Falcon.
Kiltimagh/Knock United v Killala (Sun 3pm)
On current form there should only be one winner of this tie at CMS Park where Kiltimagh/Knock have been very impressive of late as they have cemented their second place spot in the Premier League. Killala are in a relegation battle but their last victory was against their opponents this weekend when they won at The Courthouse when Rory Gallagher was the difference as he hit the winner in a 2-1 win.
Swinford v Bangor Hibs (Sun 3pm)
In the final game in the Premier League Swinford host Bangor Hibs as both sides look to push towards that second promotion spot that they both came so close to last season. Swinford got their first league win in two months last weekend and they will have been delighted to see Paddy O'Donnell end his goal drought. Hibs themselves had a much needed win against Crossmolina as youngsters Mikie Conroy and Justin Healy hit the crucial goals.
Solar 21 League One
Ballyvary Blue Bombers v Conn Rangers B (Sun 12pm)
If Ballyvary Blue Bombers are to have any chance of surviving this season they must pick up the three points when Conn Rangers B are the visitors in the battle of the two teams currently occupying the relegation spots in League One. Conn Rangers B are still looking for their first points of the year while a win for Ballyvary could see them move level on points with Ballina Town B.
Manulla B v Mulranny United (Sun 12pm)
Manulla B and Mulranny United are the only two teams that can push the top two teams for the promotion spots this season but the team that fails to pick up all three points in this clash will have to prepare for another season in League One. Adrian Grealis and Niall Muldoon have been the main goalscoring threat for Mulranny and it was this pairing that got on the score sheet against Ballyglass B in a 2-2 draw last weekend as they ended their recent bad run of defeats.
Ballyglass B v Snugboro United (Sun 3pm)
The big clash on Sunday in League One sees the top two sides meeting at Michael Keaveney Park. Only two points separate Snugboro and Ballyglass and the away side will be only too aware of the dangers Ballyglass pose as they remain the only team to have taken points off them this season. Ballyglass won that game earlier in the season 1-0 thanks to a goal from Darragh Ruane but Snugboro's current form would point to them moving further ahead at the top of the table as they have scored 16 goals in their last 3 games with Noby Karol now joining his teammate Sean Curry at the top of the goalscoring charts with 7 goals.
Partry Athletic v Ballina Town B (Sun 3pm)
Both these sides could still end up in a relegation battle but Partry's recent form suggests they have more than enough about them to avoid that fate this season. Partry had an impressive 4-0 win against Manulla B last weekend and the fact they have only lost once at home so far this season would point to them been favourites when Ballina Town B visit on Sunday even though Ballina did win their first meeting this season by three goals to nil.
Killeen Sports Ground League Two
Castlebar Celtic B v Newport Town (Sun 12pm)
Castlebar Celtic B strengthened their position at the top of League two last weekend with a 3-2 victory over Hollister to pick up their fifth league win in a row. Bryan Mannion's side have been very impressive this season and have also reached the McDonnell Cup Final when they will play Kilmore next weekend. Newport chances of promotion are fading but they will know that a win against Celtic on Sunday would push them right back up there and in with a shout of staying in touch with Kilmore in 2nd place.
Kiltimagh/Knock United v Hollister (Sun 12pm)
Hollister can move within a point of Kilmore in their battle for promotion if they can get back to winning ways against Kiltimagh/Knock United on Sunday morning. Kiltimagh/Knock remain rooted to the bottom of League Two so Hollister will fancy their chances of getting their first win in 4 games. They signed Kieran O'Malley from Ballina Town B and his experience will certainly be a big plus for Vinny Coen's side
Follow the site to get the latest news and results straight to your email