Mayo Football League

Mayo Football League
News Report
Weekend Preview - 14th/15th April
13/04/18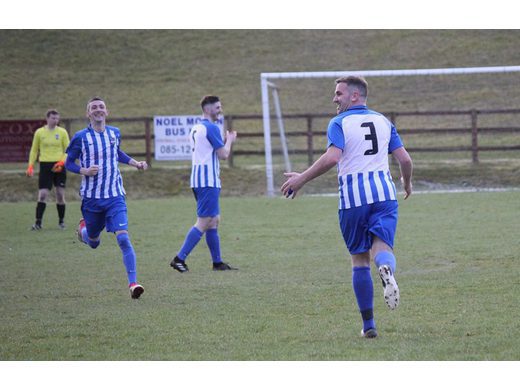 Westaro Cup
Manulla v Westport United (Sat 6pm)
The top two sides in Mayo last season meet in the tie of the round on Saturday evening in Carramore. At our season launch night Padraig Burns highlighted the fact that Westport have a poor recent record in the domestic cup competitions and that they will be hoping to change that this year. They couldn't have asked for a tougher opening game as Manulla always give them a tough game especially in Carramore. Manulla had a good 4-1 win in Iorras last weekend as their Brazilian signings began to click with Lucas De Paula to the fore in that game. Westport were knocked out of this competition by Manulla last season as Connie Morrissey's side made it to the final where they eventually fell to a 2-1 defeat against Castlebar Celtic.

Straide & Foxford Utd v Iorras Aontaithe (Sat 6pm)
Two sides that met on the opening day of the season meet again as Iorras travel to Green Road to take on an in form Straide & Foxford side. Straide & Foxford have made a perfect start to the season with three wins from three with goals coming from all over the pitch as Paul Large's side have begun this season just like they did the 2017 season. Iorras will feel that they should have picked up at least a point in that opening day defeat to Straide & Foxford when Michael Guilfoyle hit a late winner, but Paul Reilly's side are still looking for a win after their opening three games.

Ballina Town v Ballyheane (Sun 2.30pm)
After an important opening day win away to Claremorris, Ballyheane found the going much tougher last Sunday when they were beaten 5-0 by Straide & Foxford United and they would have been looking for a nicer draw in the cup than having to play the Connacht Gold Cup Champions Ballina Town in the first round. The 'Town' are in free scoring form so far this year with Brendan Lavelle leading the scoring charts in the Super League after scoring five in their opening three games with others like Dwane Helly, Dylan McKee and Mark Birrane also chipping in with goals as they have taken seven points from the nine available.

Kiltimagh/Knock Utd v Castlebar Celtic (Sun 2.30pm)
Defending champions Castlebar Celtic will be hoping to put the disappointment of their Connacht Cup Semi Final defeat behind them as they travel to CMS Park to take on Kiltimagh/Knock United. Kiltimagh/Knock were a match for Westport United for much of their league encounter last weekend but their failure in front of goal has cost them dearly in their opening two Super League games. Celtic under Michael McNicholas look a much different proposition this season as players like Liam Flatley, Gerry Hunt and Ger O'Boyle shining through in what has been a good start to their Super League campaign.


Claremorris v Ballyglass (Sun 2.30pm)
Neither of these sides have tasted victory so far this season but both of them can be encouraged by the performances they have put in especially against some of the top sides in the county. Claremorris led 2-0 against Ballina early on last weekend but just like in their opening game against Castlebar Celtic they had problems at the other end of the pitch as Ballina came back to win 5-2. Ballyglass will feel they should have more points on the board as they were hit by late goals in both of their opening two league games as Westport struck a late winner and Manulla scored right at the death to take a share of the spoils.

CastleCourt Hotel Premier Division

Bangor Hibs v Conn Rangers (Postponed)

Fahy Rovers v Ballyglass B (Sat 6pm)
Fahy have yet to get there season properly underway as they have only played one game after having two games postponed. They drew 1-1 with Glenhest in that game and looked really good as they were minutes away from picking up a win until Cathal Chambers hit a late freekick. Ballyglass B are finding it difficult since they made the step up to the Premier Division as they are still looking for their first points of the season after their opening three games. even though they were very competitive in their last two defeats to Bangor Hibs and Conn Rangers.

Snugboro United v Swinford (Sat 6pm)
Swinford have a Connacht Shield Final to look forward to in a few weeks after last Sunday's superb semi-final win away to Galway side Colmanstown United. Liam Foy's side must forget about the final for now as they return to league action with a tough away trip to Snugboro as they look to maintain their 100% start to the domestic campaign. Snugboro tasted defeat for the first time in a while on Saturday last as Glenhest hit two second half goals to cancel out Sean Curry's first half penalty as they struggled to contain the pace of the Glenhest attack. Aaron Curry will be hoping that Swinford are suffering from a cup hangover but judging on recent form Swinford are more than capable of at least picking up a point on Saturday evening.

Westport United B v Achill Rovers (Sun 11.30am)
Achill Rovers will be looking to put last weekends home defeat to Ballyhaunis Town behind them as they travel to United Park to take on Westport United B. Westport B have not had an ideal start to the season either and the fact that they are yet to appoint a manager is a major contributing factor to their recent poor run of form. These two sides meet again in the cup next weekend but both of them would put getting the three points available on Sunday morning ahead of a victory the following week.

Ballyhaunis Town v Glenhest Rovers (Sun 2.30pm)
The top two sides in the Premier Division meet on Sunday afternoon as Glenhest Rovers aim to end Ballyhaunis Town's perfect start to the season. Glenhest came through a tough encounter with Snugboro last time out as two second half goals sealed the win for Damien Walsh's side. Chris Rowland and Kevin Ward were at the centre of that win with Rowland firing home the winner with a half volley from the edge of the box. Tommy Page's side are probably the most inform side in Mayo League football so far as their attacking brand of football has led to three big wins with Gary Higgins stealing the limelight with three goals in last weekend's win over Achill Rovers. This is sure to be a real battle so early in the season with goals expected in what should be a close affair.

Three Store Ballina League One

Castlebar Celtic B v Crossmolina (Sat 6pm)
Castlebar Celtic have found the step up to League One difficult so far as they have conceded ten goals in their opening two games as they suffered defeats to Kilmore and Killala. They can take some consolation as they at least made Killala fight for the three points last weekend as they fought back from 4-0 down to lose by the odd goal in seven in the end. Crossmolina's Kevin Campbell was the man of the match when he hit a hat-trick as his side picked up their first points of the season last weekend against Kilmore in an impressive victory where Shane Hennigan lead the line brilliantly in their five-one win.

Killala v Mulranny United (Sat 6pm)
Mulranny would have been hoping for an easier fixture after last weekends defeat to Ballina Town B but a trip to the Courthouse to take on Killala is what awaits them on Saturday evening. Killala picked up their first win of the season against Castlebar Celtic B in a seven goal thriller last Saturday. They had four different players find the net in that win and if Rory Gallagher makes his return to action he will add even more firepower to the side. Mulranny did get a good opening day win away to Partry Athletic and Adrian McManamon's charges will be hoping to get back on track after that heavy defeat last weekend.

Ballina Town B v Manulla B (Sun 11.30am)
It's six points from six for both of these teams so far this year so something will have to give when Ballina Town B welcome Manulla B to Belleek on Sunday morning. Jason Muldoon has been to the fore at the heart of the Ballina midfield but others like Dale Hopkins and Shane Devers have had no trouble finding the net as they defeated Killala and Mulranny in their first two games. Manulla have had two home games to start off the season where there more experienced players have got the key goals to leave them on maximum points. Shane Durkan scored both goals in their opening day win over Crossmolina while Matty Nolan and MJ Canavan were on target in last weeks win over Partry Athletic.

Kilmore v Partry Athletic (Sun 2.30pm)
Kilmore were reminded that they are playing at a higher division this year as Crossmolina handed them a harsh lesson last weekend with a 5-1 victory in Abbeyview. Home advantage is usually a huge factor for the Erris based side and this could be the case on Sunday as Partry make the 130-mile round trip to the Erris Peninsula. Partry are still looking to get their first points of the season but the absence of star player Ciaran Hennelly is having a massive effect on Neil Donnelly's side as they have struggled to get a grip on games where there usual passing style of play has deserted them.

Killeen Sports Ground League Two

Ballyvary Blue Bombers v Claremorris B (Sat 6pm)
Ballyvary will be disappointed with how the season has begun as they've suffered defeats in their opening two games and they will need to show huge improvements if they are to put any points on the board against Claremorris B who looked very impressive in their opening game as they put five past Ballina United.

Hollister v Newport Burrishoole (Sat 6pm)
Both of these sides have three points on the board as Newport got their first points of the season last weekend in a 3-1 win at home against Ballyvary Blue Bombers. Hollister had a good opening day victory over the same opposition and Vinny Coen's side had a good record against Newport last season as they got the better of them in all four meetings in league and cup competitions.
Follow the site to get the latest news and results straight to your email