Mayo Football League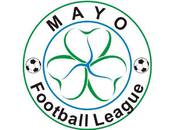 Mayo Football League
News Report
Swinford B crowned Oliver Kelleher Masters Cup Champions
08/03/18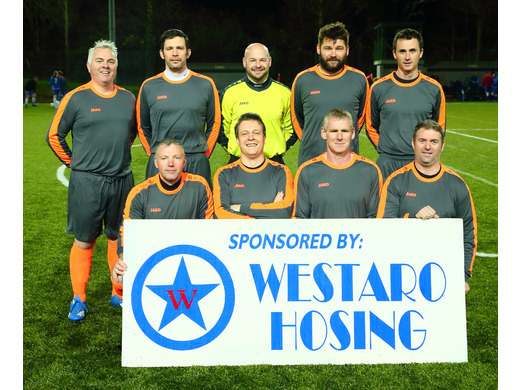 Four goals from the East Mayo sides star striker helped edge them over the line in a topsy turvy clash which easily could have gone either way.
The Division 2 champions had to survive an early onslaught from Celtic but the final pass just wouldn't come off for the Hoops.

In the 9th minute McDonnell got his first chance and duly dispatched the ball to give Swinford the lead. Cutting inside Ashley Stevenson on the edge of the box his shot flew to the far corner, giving Fintan McHale no chance in goal.

Thomas Regan pushed a low shot from Bryan Mannion around the post two minutes later to preserve Swinford's lead before they doubled it on 16 minutes when Karol Rush intercepted the ball in the Celtic half and set up McDonnell to toe poke the ball to the net.

Just a minute later, however, Celtic had pulled one back when a Declan Flynn cross was dropped to the net by Regan and a minute before the half-time break Celtic found themselves level when Kevin Malone released a rocket of a shot from 20 yards into the top corner.

Celtic were no doubt the happier team going in to the break and two minutes after the restart Mannion was unlucky to see a close range shot went wide of the post.

Swinford regained the lead with two quickfire goals in the 35th and 37th minute. The first was a brilliant piece of individual skill from Richie Conway to beat two defenders before sending the ball into the top corner.

Two minutes later McDonnell completed his hat-trick when Tim Moriarty picked out Conway with a defence splitting pass and he put the ball on a plate for McDonnell to tap to the net.

Bryan Mannion pulled back a goal with seven minutes remaning as the game began to lose all semblance of shape and desperation became a key theme.

The win was sealed for the East Mayo side on 46 minutes when a mistake saw Fintan McHale stranded in no mans land and McDonnell lobbed the ball from 30 yards into an empty net.

Celtic would push to get back into the game and force extra-time and pulled back a goal through Mannion in the 47th minute but despite putting pressure on the Swinford goal for the remaining time they couldn't break them down and the Division 2 side held on for their 12th win on the trot.

Teams
Castlebar Celtic: Fintan McHale, David Cusack, Ashley Stevenson, Declan Flynn, Aidan O'Brien, Kevin Malone, Mark Rowland, Trevor Dempsey, Bryan Mannion, Barry Redmond
Swinford B: Thomas Regan, Billy Murphy, Gerry Henry, Karol Rush, John Duffy, Brian Kelleher, Richie Conway, Tim Moriarty, Patrick McDonnell, Jakub Gawalkiewicz

Ref: Martin Regan
Follow the league to get the latest news and results straight to your email