Mayo Football League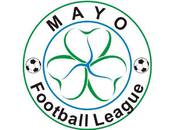 Mayo Football League
News Report
Oliver Kelleher Masters Cup Semi Finals Review
22/02/18
Swinford 'B' kept their own double hopes alive for the season while ending Manulla's in a comprehensive 7-1 win. The division two champions never looking daunted against their top division counterparts and stretched their winning run out to 11 consecutive games. Their only defeat all season came against Swinford 'A' on the opening night of the season.
Goals from Tim Moriarty, Patrick McDonnell and Jakub Gawalkiewicz had the East Mayo side into a 3-0 lead midway through the first-half. The division one champions not knowing what hit them with the intensity brought to the game by Swinford.
Manulla goalkeeper Sean Fahey pulled off a point blank save at the end of the first-half which looked to keep Manulla in the game and maybe offer them hope going into the break. However, McDonnell grabbed his second of the game three minutes into the second-half to kill off the contest.
Manulla replied a minute later through David Sheridan but Swinford's defensive discipline held throughout and chances were few and far between for the boys in blue.
A straight red card for Gerry Jennings seven minutes from time put paid to their chances of a phenomenal comeback and Swinford added three late goals from Moriarty, Gawalkiewicz and Gerry Henry to reach the final.

The night's second semi-final didn't offer up as many goals but there was plenty of drama as Castlebar Celtic defeated last season's double champions Ballina Town 2-0.
Five weeks ago it looked as if Ballina were coasting towards another double this year but a loss of form has seen them end the season with no silverware to show for their efforts while Celtic look like a team who have targeted the cup competition this year.

The first-half was a slow building affair as Ballina clearly didn't want to be caught for early goals like they were when the teams met in the penultimate round of the league and that led to a tight and tense performance from both teams with neither creating any real chances of note until Celtic took the lead at the very end of the half through Kevin Malone.
Ballina did their homework on who to look after in the Celtic team and they managed to keep both Russell Gibbons and Bryan Mannion quiet throughout but others stepped up for the Castlebar side.
Ballina couldn't find a way to break through the Celtic rearguard and were reduced to having to take pot shots from outside the penalty area.
Eventually Celtic doubled their lead with ten minutes left to play when Declan Flynn hit an unbelievable volley from the corner of the box over the head of Kieran O'Malley and into the top corner. It was a goal worthy of winning any game and proved to be the insurance score for Celtic.


The final between Celtic and Swinford 'B' takes place in Solar 21 Park on Saturday evening, March 3, at 7pm and promises to be a cup final to remember.
Follow the league to get the latest news and results straight to your email