Mayo Football League

Mayo Football League
News Report
Easter Weekend Preview
30/03/18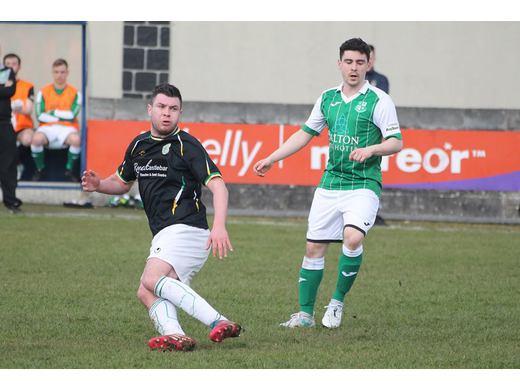 Elverys Sports Super League
Claremorris v Ballyheane (Sat 6pm)
Ballyheane needed a play-off victory over Glenhest to survive in the Super League last season and they are expecting another tough season according to their manager Joe Redmond. After last weekend's game against Kiltimagh/Knock United was postponed they have been given a tough opener when they travel to Concannon Park to take on Claremorris. Mark Peters side played very well in their opening fixture in Celtic Park last Sunday but Liam Flatley's goal instincts seen Castlebar Celtic come out as 4-1 winners in a game that was much closer than the scoreline suggests.

Straide & Foxford United v Kiltimagh/Knock United (Sat 6pm)
Kiltimagh/Knock United make their Super League debut on Saturday evening when they travel to Green Road to take on Straide & Foxford United. Kiltimagh/Knock have had a quite preseason and head into the 2018 season with much the same squad as they had last year when they gained promotion from the Premier League. Stephen Wallace was probably their player of the year in 2017 and they will look to him and other senior squad members like Liam Groarke and Andy Leadbetter to help them adjust to life in the top division. Straide & Foxford had an impressive opening day win away to Iorras Aontaithe as new signing Michael Guilfoyle scored a hat trick including an 88th minute winner to steal the points for Paul Large's side in a 3-2 win. Straide & Foxford will always score goals with the quality they have in attack but if their first game is anything to go by they are still struggling to keep them out at the other end just as they did last year.

Westport United v Iorras Aontaithe (Sun 2.30pm)
After an opening day defeat Iorras Aontaithe couldn't have asked for a tougher second game as they travel to United Park to take on the champions Westport United. Iorras have a nice mix of experience and youth in their side and the young players will look to Brendan Nallen, Anthony Mills and Michael Meenaghan to guide them through what promises to be a very competitive Super League campaign. Westport needed a late Brandon Scahill goal to claim the three points in an uninspiring win over Ballyglass on Sunday last. New manager John Russell was delighted with the character shown by his side as Ballyglass pushed them all the way in what proved to be a very tough away trip for the Covies.

Manulla v Ballyglass (Sun 2.30pm)
It's derby day in Manulla as Connie Morrissey's side host near neighbours Ballyglass in what should prove to be one of the games of the weekend as both sides go in search of their first points of the season. Manulla found the going very tough in Belleek last weekend as they conceded four against Ballina Town and they will need to show huge improvements if they are to continue their recent unbeaten run against Tom Connolly's side. Ballyglass can consider themselves very unlucky not to pick up at least a point against Westport United and they will be looking to bounce back with a win over their local rivals.

Castlebar Celtic v Ballina Town (Sun 2.30pm)
Undoubtedly the game of the weekend takes place at Celtic Park when Ballina Town make the journey to the county town to take on Castlebar Celtic who have their former manager Michael McNicholas in charge. Both sides recorded impressive victories last weekend with wins over Manulla and Claremorris respectively. Ballina came out on top when these sides last met at the end of last season in the Connacht Gold Super Cup Final but they will need to end Celtic's long undefeated home record if they are to add to their opening day win. Liam Flatley hit a hat-trick against Claremorris but Gerry Hunt, Ger O'Boyle and Colm Nevin were also at the centre of that win as Celtic continued the form that has seen them reach the semi finals of the Connacht Cup.


CastleCourt Hotel Premier Division

Bangor Hibs v Ballyglass B (Sat 6pm)
Another two sides looking for their first points of the season meet at Ballybeg Park as Ballyglass B make the long journey to take on Bangor Hibs. A youthful Bangor Hibs side found the going tough in their opening game against Ballyhaunis and they will need to settle quickly if they are to make an impression on the Premier League this season. Ballyglass B also conceded five goals in their opening game but like Hibs they faded in the last twenty minutes after been competitive for most of the game against a strong Swinford side.


Fahy Rovers v Glenhest Rovers (Sat 6pm)
Fahy Rovers get their season underway on Saturday evening when Glenhest Rovers are the visitors to Solar 21 Park. Fahy were fortunate to avoid relegation on the last day of the 2017 season but after a good pre-season they will be expecting to challenge at the other end of the table this year. Glenhest were 2-0 winners against Conn Rangers last time out when midfielder John O'Malley struck both goals in the first half and the preseason favourites already look like one of the teams to beat and with players like Chris and Adrian Rowland in their side they have plenty of quality to live up to these expectations.


Ballyhaunis Town v Westport United B (Sat 6pm)
Westport United B suffered an opening day defeat to Swinford and they would have hoped for an easier outing on Sunday than a trip to Ballyhaunis Town looking to pick up their first points of the season. Ballyhaunis look to have added some excellent players to their squad during the off season and they didn't take long to gel as they got their season off to a perfect start with a win over Bangor Hibs. Cathal Carney is back from Galway United U19's and Dayo Fabumni and Gary Higgins have joined from Sligo Rovers U19 and these players added to the likes of Pat McGee, Keith Robinson & Stephen Nolan should ensure that Ballyhaunis are far from relegation trouble this time around.
Conn Rangers v Swinford (Sun 11.30am)
Swinford have a Connacht Shield Semi-Final to look forward to on Sunday week but first they will look to pick up their second win of the season when they make the short journey to Mount Falcon to take on Conn Rangers. Niall Price was their match-winner in their opening game with an impressive hat trick against Ballyglass B but others like Martin Murphy and Paddy O'Donnell were also on top form as Liam Foy's side kept up their recent good form. Conn Rangers have lost a few players recently and they began the new season with a defeat to Glenhest Rovers but they will be encouraged by the performance of some of the new players in their squad especially debutants Oran Gallagher, Shea Pye and Ben Stowe who are all just sixteen years old.

Snugboro United v Achill Rovers (Sun 2.30pm)
Achill Rovers have returned to the Premier League this season and on Sunday they have a tough opening fixture when they take on Snugboro United who had a 3-1 victory over Westport United B last weekend. Achill have much the same squad as last season and players like Chris Western, Mark Davitt and Brandon McGing will be key to how they adapt to life after their short stay in the Super League last season. Martin Fadian has taken over as manager this year and he will be hoping that he can make Rovers absence from the top division a short one. Norbert Karol was the man on form for Snugboro in their opening day win over Westport B when he hit a first half hat trick for Aaron Curry's side. Karol along with strike partner Sean Curry are going to cause problems for most defences and with a strong back line including Peter Minogue and Ronan McTigue they are going to prove very difficult to score goals against if last season is anything to go by.

Three Store Ballina League One

Killala v Ballina Town B (Sat 6pm)
Killala were relegated on the final day of the 2017 season after a season plagued with injuries finally caught up on them. They will get their League One season underway with a local derby against Philly Devers Ballina Town B side. Killala will be looking for an instant return to the Premier league and will look to the likes of Rory Gallagher, Kyle McLoughlin and David Cadden to lead them to promotion. Ballina Town B had an indifferent season last time out but with their younger players now bedded into the squad they will be difficult for anyone to beat. Jordan Delaney, Jason Muldoon and Darragh Quinn are just three of the players to look out for and other more experienced players like Eugene Gorman, Mark Beattie and Martin Maughan will also play a crucial role in a promising side.

Kilmore v Castlebar Celtic B (Sat 6pm)
These two sides know each other very well after they met four times last season as they both gained promotion from League Two. Celtic's player manager Bryan Mannion was the player of the year in League Two in their title winning run and they will be relying on him to continue this form if they are to feature at the top of the table this season. Kilmore gained promotion in their first season back in Mayo League football and the young squad they have assembled will be hoping they can continue the home form they showed last year to keep them in contention this time around. Sean Brogan was key to their success last year and they will be hoping he shows the form he showed early last year before injury ruled him out for the last month of the season. Ritchie Hanley and Thomas McGonigle have signed from Iorras Aontaithe and these two players should add a bit of quality to Mick O'Boyle's squad.

Manulla B v Crossmolina (Sat 6pm)
Crossmolina are back in League One again this year but manager Derek Greham is delighted that he has retained the majority of his squad from last season. Ian Gordon, Kevin Campbell and Kevin McHugh are three players that have a huge influence on how Crossmolina preform and Derek expects striker Shane Hennigan to have a huge impact on the season ahead. Manulla B will once again look to their youth setup to form the nucleus of the squad but they will also use some of the older more experienced players to guide the newer members of the squad.

Partry Athletic v Mulranny United (Sun 2.30pm)
Two sides that are familiar with each other from last season meet in Partry as Mulranny United make the long journey to take on the home side. Partry will hope to take the form they showed at the end of last season into the 2018 season which seen them go unbeaten in their final seven league games. Ciaran Hennelly is their star player and with others like James Colfer and Tom Byrne in their side they will be hoping to go one better than their third-place finish in 2017. On the other hand Mulranny United had a tough end to last season that seen them slip down the table after challenging at the top for the first half of the season. Adrian Grealis and Niall Muldoon are two of their most dangerous players but it's at the other end of the pitch they will need to improve on if they are to make a push for promotion this time around.

Killeen Sports Ground League Two

Ballyvary Blue Bombers v Hollister (Sun 11.30am)
The fourth tier of the Mayo League is always tough to call at the start of the season but both of these sides are expecting to be up there at the end of the season. Ballyvary came down from League One while Hollister finished third in this division in what was one of their best seasons for several years.


Ballina United v Newport Town (Sun 2.30pm)
Ballina United are returning to Mayo League Football for the first time since 2011 and on Sunday they will begin their new campaign with a home tie against Newport Town. Newport found the going tough last season and like the rest of the teams in this division they will be hoping for a much better season this year. Claremorris B are the other team in League Two this season and to pick a winner seems extremely difficult at this stage but we should have a clearer picture in a few weeks' time as the teams settle into the new season.
Follow the site to get the latest news and results straight to your email